Description
BWIT - Mindful Listening in the Age of Distraction
February 1, 2023 11:00 AM - 1:30 PM (CST)
*Please RSVP by 1pm CT Wednesday, January 18th to reserve a spot.*

Description
*the program starts at 12pm, but networking and lunch will be at 11am*
Join Birmingham Women in Technology for an in-person, interactive session with Deborah Boswell on "Mindful Listening in the Age of Distraction"! There will be a FREE lunchbox lunch served from 11-11:55am, before the speaker portion.
Event and lunch Sponsored by Blue Cross and Blue Shield of Alabama.
Mindful Listening in the Age of Distraction with Deborah Boswell, MS, CCC/SLP
Do you struggle to stay focused while listening to a colleague speak in a virtual presentation? What about maintaining interest in a team member's work concern when you have already figured out a solution? Are you finding it difficult to corral your thoughts when you should be listening?
Join us Feb. 1st , 2023, for an intriguing look at why we struggle to stay focused in this age of distraction and some steps you can take to become a more mindful listener.
Event Details
Location: Blue Cross Blue Shield of Alabama, 450 Riverchase Pkwy E, Hoover, AL 35244
Network and lunch before the session begins: 11:00am-11:55am
Session with Deborah Boswell: 12:00pm-1:30pm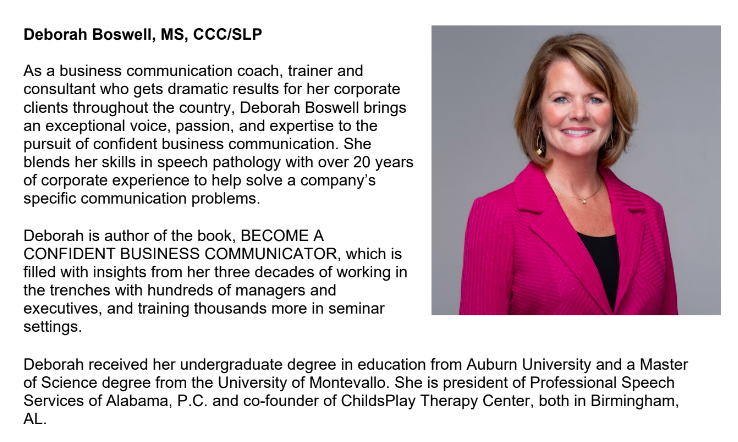 Location
Blue Cross and Blue Shield of Alabama
450 Riverchase Parkway E, Birmingham, AL, 35244, United States